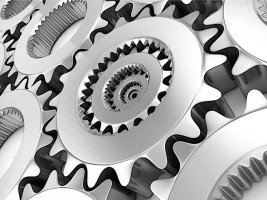 Maximizing the value inherent in any business software is dependent upon a successful implementation. And most implementations don't start with a clean slate. Many smaller businesses develop their own in-house systems and processes around their current software solution, incorporating new technologies as they grow.
The resulting unique workflow complexities can make the prospect of integrating with a new software solution a daunting prospect — and become an inhibiting factor to adopting technology that will streamline your operations.
Your technology puzzle is our challenge
Your business software must be seamlessly integrated with your existing systems and equipment. Most software vendors sell you their solution, but the messy work of integrating with your in-house processes is outside of their scope.
We're different. When you choose Software Concepts as your technology partner, we own the integration. We take responsibility to ensure that your new DS90 iSeries software integrates with your existing processes, physical hardware, software and local or cloud-based network.
As a small business, there are lots of worries to keep you up at night.  You shouldn't have to question whether your new DS90 iSeries business software will play well with your UPS/FedEx shipping stations, eCommerce website or remote users.  Or worry that you'll lose connectivity with your remote offices, printers and other peripherals like POS stations or bar-code scanners. We care for these and all of the other integrations in your specific configuration.
Not only do we ensure that all pieces of your technology puzzle will work successfully, we provide expert advice and helpful resources to help our clients make the best technology-related business decisions on equipment and configurations.
We'll even help you configure your VPNs and firewalls and guide you in selecting the best Internet Service Provider for your needs (along with a secondary ISP for backup). And of course we'll ensure that your new DS90 iSeries software integrates with your labeling software, WiFi networks or other technologies.
You can count on us for a thorough and complete installation which effectively addresses every integration.