Advanced Applications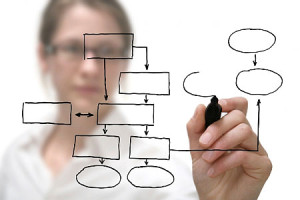 Software Concepts delivers software solutions to customers across many different industries. To support their varied and possibly sophisticated business requirements, we efficiently develop software enhancements to meet unique needs. We repackage these new automated business functions as "modules" which we can incorporate into any customer's environment, as desired.
Industry Specific Enhancements
The functionality inherent in these software enhancements may be useful as is or modified slightly to meet your specific needs.
Paperless Office – Scan or view any document associated with an order via the order inquiry program. View image of original invoice or scan documents directly into Accounts Payable and link for future viewing in payables and purchase order inquiries.
Call Management – Track and initiate telephone calls to facilitate customer reorder process. This module is especially useful to companies that are in constant contact with their customers and want to be more proactive.
Flower Distribution – Identify inventory availability by product attributes such as grower, variety or grade. This module is ideal for companies that have perishable products of any kind.
Paper Converter – Track and process custom orders that have hundreds of possible sizes and attributes, while also acquiring detailed production and shipment data.
Advertising Specialty – Branding and printing on a customized basis for hundreds of different kinds of products. This functionality is helpful to companies who offer custom printing, embellishment, finishing, packaging and more.
Advanced Quoting – Nimble and swift creation of complex quotes in response to telephone inquiries from prospective customers. This capability is helpful to companies that have complex products or multiple pricing configurations.
Importing Logistics – This module allows a user to track true costs associated with importing goods from overseas. These costs may include ancillary shipping charges or a variety of unusual costs. Additional functionality within this module allows user to build containers from one or multiple purchase orders by line item.
Calendar Tracking – Automate tasks and activities to manage customers and vendors on a daily basis.
Looking for something not listed here? We can help!